It is finally out! Since online payments proved to be a great idea and they received your warm welcomes, we brought you a new feature that makes it even easier to get paid.  From now on, your clients can pay you by a QR codes.
Pay by phone using the QR codes
Similarly to the online payments, the main purpose of QR codes payments is to shorten the time it takes you to get paid. All the necessary details for payment already included in the QR code. Therefore, the only thing your clients have to do is to scan the QR code using their mobile phone and the app of their bank. Since all the details are pre-entered, they do not need to enter them manually and then repeatedly check if everything is correct.
However, do not confuse the QR codes' payments with the regular pay by phone. Although, your clients are using their mobile phones to pay you, the whole transaction is done through your clients' the internet banking.
Get paid faster
Nowadays, almost everyone has a smartphone, yet majority of the people do not use it to its full potential. All you need is a phone with a camera, an app, a QR code and you are all set to get faster payments.
QR-Code (Quick Response Code) is a simple solution that lets you enter a link to a website or your banking details into a square barcode. Afterwards, these information can be conveniently accessed by scanning the code instead of manually typing in the date.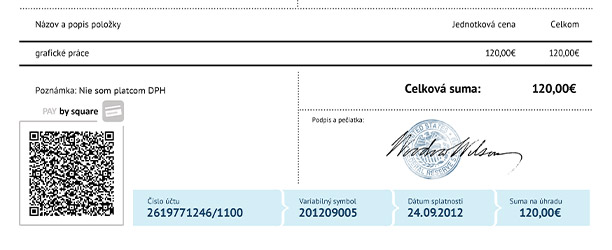 The process of the QR code payment
When creating an invoice, simply select the option to display the QR code. This feature is available to all our members without limitations.

Send your invoice to the client by mail (preferably use our Hybrid mail) or email. Once the client receives the invoice, he will use his phone and the app of his bank to scan the QR code, which will be located on the bottom of the invoice. By scanning the code, the necessary banking detail will be automatically filled out and the only thing your client has to do is to confirm the payment.
The QR codes' payments were made possible due to the cooperation of the entrepreneurs and the banks by using standardized QR codes by square from Forsys. Furthermore, the wide usage of the QR codes and their implementation by the banks makes them an easy and fast method of payment for your customers. Currently, the QR payments are only supported by Slovenská sporitelňa but all the other major Slovak banks are working on inplementing them into their apps.
Paying by the QR codes is safe (at least as much as the internet banking), quick and always with you on the go. There are no additional costs associated with the use of the QR codes' payments to the Superfaktura's users or their clients.